I think I may have finally found some fabric that I think will work for my upholstered headboard. I love it but the only problem is it doesn't offer as much contrast to the white bedding as I was hoping to have.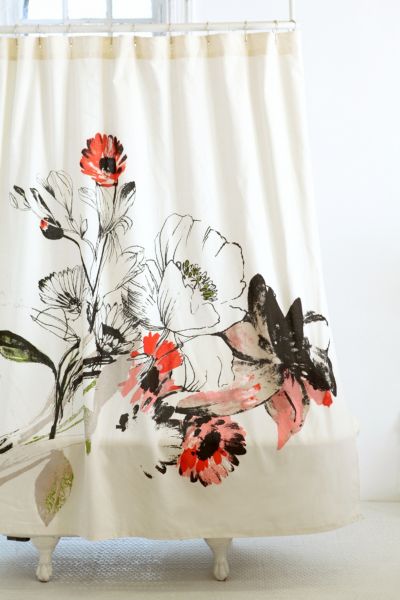 Um, Brandi, that's a shower curtain...I know it's awesome right?! I'm totally going to see if it will work. If not i can return it, you can't do that with fabric!!!!
So one thought led to another in my crazy brain and now I'm contemplating doing an accent wall. I thought with either a stencil or a fantastic punch of color may help take the room to another level altogether, which is something I would welcome. I wouldn't mind going all out in the bedroom but I do still need to make sure I have some level of calmness in the bedroom while still maintaining the wow factor.
I feel very hesitant because I had previously not liked them at all. I did some searching and found some really wonderful examples but I am still undecided.
We've all seen this amazingly awesome room from
Danielle Oakey
But alas, I'm not a little girl. This does give me hope though.
Another issue is, I don't have a lot of natural light in this room. It's a generously sized room with only two narrow and tall windows. The rest of my house has huge gorgeous windows but somehow the builder really missed the boat on this one.
Yet another issue, the headboard and the two windows are on the same wall. Therefore, a lot would be going on on this one wall. Headboard, bedding, curtains, paint. I don't want the room to be too busy or heavy on the one wall. The bed wouldn't make sense on any other wall, so rearranging is out of the question. Oh the problems...
I'm loving this accent wall from Sfgirlbybay. But again I still have curtains to contend with all on this one wall.
I am open to changing bedding, I have no ideas of what to do for window treatments yet, so that is open as well. So what do we think about accent walls? How can I make sure it looks good? How do you feel about them in my room? If not an accent wall, what color could I paint the room to give it contrast?
Help meeeee!