Over the break we started a demo on our hall bath. After our master bath reno it's the only bathroom we have left to do. We did all the demo ourselves in the master bath of course but left the rest up to the professionals. Since this is a much smaller and easier job we are taking on this whole project ourselves!
This was the spare bath when we moved in. Yikes!
And this is what it looks like now. You can't see in this picture but there are fur-downs running all the way from over the sink down the wall and over the whole tub area. Those babies are coming out. I think they look so dated.
So far we have managed to get all the tile, the tub, and raise the ceiling over the tub. Success! I'm glad we did this for obvious reasons but we also found that the tile had not been installed properly when the house was built. It was mounted on drywall instead of moisture proof cement board and was starting to rot. The shower wall on your right also backs up to behind our stove in the kitchen and there's a huge hole there!
Our next step is to buy a tub this weekend. Once that is installed we can put up the cement board and frame out the walls.
Of course I'm already thinking about design!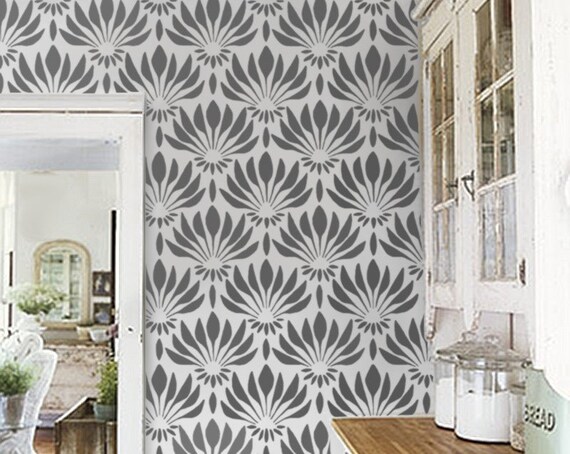 I've been in love with this art deco stencil ever since I saw it and I want to do it in this bathroom. It's a smaller bathroom so I think a shot of pattern could be nice.
Since it's a busier pattern I want to think about the colors and what I will do for a shower curtain.
This bathroom is obviously gorgeous but I thought it was interesting that they did a roman shade in the exact same color and pattern. It's an idea to make it blend in, almost like another wall, instead of cutting off the pattern on the far end of our bathroom. I could stencil the color on some fabric and voila!
A perfect deco example. I LOVE the color scheme in here and the little touch of boho with the boxes. Just my style.
I'm sure most of us have seen this amazing custom shower curtain. It's awesome. My husband wants the shower to be nice and steamy and almost cave like. I think this is the perfect solution and it's pretty! Yay for compromising! (though not really because this is awesome)
If I don't stencil the curtain maybe something with a band or accent along the bottom.
Perfect example of mixing patterned walls with a clean look curtain in Kate Spade's bath.
I rather like the look of two shower curtains flanking the bath. Almost like a window,
This casually hung curtain is rather lovely but I'm not sure it will work for my design.
Did you start any big projects over the break?